Spooky Honey Gingerbread Ghosts, this is a simple and effective treat that the children can help to make.
                                   Ingredients
350g Plain flour

1 teaspoon bicarbonate of soda
2 teaspoon ground ginger
1 teaspoon ground cinnamon
125g butter
17g light soft brown sugar
1 free range egg
4 tablespoon runny honey (try our new Organic Mexican Honey)
White icing to decorate
Cake decorations (for eyes and mouth)
                                          Method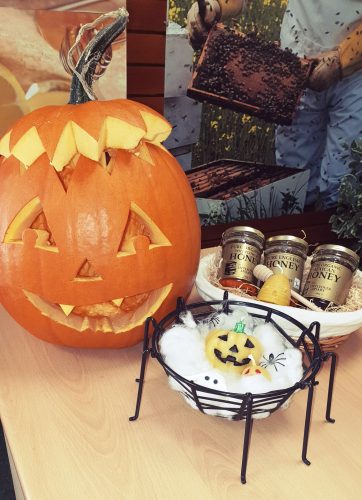 Line two baking trays with greaseproof paper and set aside.
Using a piece of scrap greaseproof make a 'ghost' template set aside.
Sift together flour, bicarbonate of soda, ginger and cinnamon, add the butter and mix until the mixture resembles bread crumbs, this can be done in a food processor if you have one.
Stir in the sugar.
Lightly beat the egg and honey together and add to the mixture stir until the mixture comes together to make a dough, again if using a food processor use the pulse facility. Tip the dough mixture onto a lightly floured board and knead briefly until smooth, wrap in cling film and refrigerate for 15minutes.
Meanwhile preheat your oven to 180C/160C for fan oven or Gas mark 4.
Remove the dough from the cling film and roll out to aprox ½ cm in thickness on a lightly floured board.
Carefully place your template on the dough and cut around to create your ghosts, these don't have to be perfect and in fact are better if they are all a little different.
Place on the baking sheets leaving a gap between each ghost.
Bake for 12-15 minutes or until lightly golden brown. Remove from the oven and leave on the baking tray for 10 minutes to cool slightly then remove to a wire rack to finish cooling.
When they are completely cool fill in the body of the ghost with white icing and use black food colouring to make a face or coloured cake decorations or just leave a whole for the eyes.
Have a spooky night!